How to Subscribe to the AGC
The Association of Green Councillors exists to support elected Green Party councillors at all levels of government and to foster, encourage and advise aspiring councillors.
Elected councillors automatically receive membership of the AGC upon election and can then attend the Annual Conference and vote at the AGM and for AGC reps.
There is a subscription charge for our Support Services which enables members to receive a range of benefits including advice, guidance, mentoring. discounted training/conference fees and access to our online resources (see table below).
In recognition of the fact that many councillors have given up paid work in order to give time to being a councillor, principal authority councillors (district, county, unitary, Welsh Regional Assembly, LGA and London Borough councillors) are charged on a sliding scale based on their overall income.
For town and parish councillors and aspiring Green councillors, those interested in supporting councillors such as previous councillors, the subscription charge is only £10 per year.
The tables below illustrates the additional support services available to subscribers and the breakdown of the subscription rates: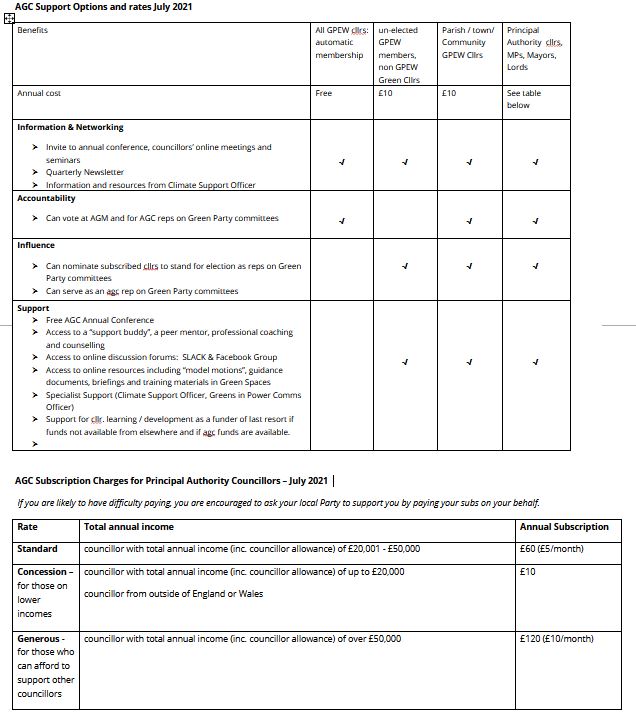 alternative subscription methods
You can also subscribe by using one of the below options:
monthly or annual standing order using the standing order form. (please inform our Treasurer you have done this - see contact details below)
OR
make a bank transfer using the bank details in the Standing Order form above (please inform our Treasurer you have done this - see contact details below)
OR
send a cheque, payable to the Association of Green Councillors, to Huw Oliver (AGC Treasurer), Greystones, Butterow Lane, Stroud, GL5 2LU
If this would cause you any hardship, please contact the Coordinator at agc@greenparty.org.uk to discuss.