A Green Party councillor has been found not guilty of breaching a court order while trying to stop trees being felled in Sheffield.
Alison Teal, the councillor for Nether Edge and Sharrow, could have faced up to two years in jail for allegedly ignoring an injunction brought by Labour-run Sheffield city council over its controversial programme, which has resulted in about 5,500 mature trees being chopped down.
But a high court judge decided she had not breached the order, brought by the council in August against her and eight other named individuals.
Afterwards, Teal accused Sheffield council of behaving like bullies. She castigated the authority for using public money to try to put her in prison, saying their pursuit of her for peaceful protest was "frightening for democracy".
Mr Justice Stephen Males said he could not be certain on the evidence presented that Teal had entered a so-called safety zone erected around trees when they were due to be felled.
About 500 more trees are earmarked for removal as part of the council's six-year programme, many on the city's leafiest and wealthiest streets.
They have been the subject of an increasingly bitter war between the Labour-run council and residents, who dispute the council's claim that the trees are a hazard for pedestrians and cyclists. There is also strong disagreement over whether the trees, many of them well over 100 years old, are still in good health.
The council, along with Amey, the outsourcing company given a £2.2bn PFI deal to carry out the tree felling, has been heavily criticised for trying to criminalise protesters and for heavy-handed tactics.
Nick Clegg, then the MP for Sheffield Hallam, last year described scenes like "something you'd expect to see in Putin's Russia rather than a Sheffield suburb". Council contractors and police had descended on a particularly desirable street in his constituency under the cover of darkness, "dragged" people out of bed to move their cars and detained peaceful protesters – "all to chop down eight trees", said Clegg.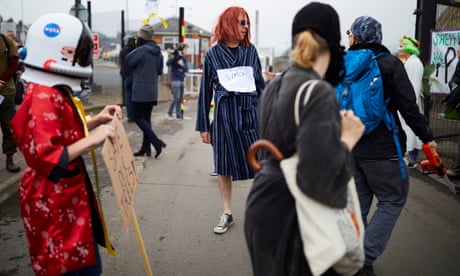 Sheffield tree protesters blockade council depot as injunction begins
The judge, sitting at Sheffield combined court on Friday, found that another protester, Calvin Payne, was in contempt of court after posting a message on Facebook inciting others to break the injunction.
More than 100 people gathered outside court on Friday to show solidarity with Teal and Payne, including the former Green party leader Natalie Bennett and the Green peer Jenny Jones. There were loud cheers from the public gallery at the end of the hearing.
Sheffield council's website shows that up to the middle of August it had spent just over £253,000 of public money pursuing the tree protesters through the courts. It was represented at Friday's hearing by two barristers, including the QC David Forsdick.
Teal's barrister, Catherine Casserley, said she would be applying to the court for the council to pay her legal costs, estimated at about £15,000.
Teal said she was "very relieved" to have the case against her dropped and criticised the council for pursuing her through the courts, using public money that would be better spent developing a "proper tree strategy".
She said: "It's just absolutely disgraceful, absolutely incredible that they would to this. I did feel it was a politically motivated decision that they made to pursue me.
"It's really frightening for democracy. They don't seem to appreciate the importance of having an opposition and how that does help a democracy from functioning properly … I'll be frank, they have behaved like bullies."
Paul Billington, the council's director of culture and environment, avoided journalists outside court but read a short statement inside the building welcoming the judge's ruling on Payne. "We hope that the judge's clear finding that Mr Payne was in contempt of court will send a clear message to anyone else avoiding justice," he said. "We will ensure that anyone in breach of the injunction is brought to justice."
(Adapted from The Guardian)