AGC Conference & AGM 2019
The 2019 AGC Annual Conference will take place from 19th - 21st July 2019 in Stroud, Gloucestershire.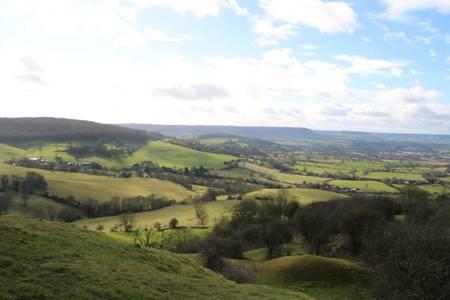 Registration is FREE to subscribed AGC members so, if you haven't yet subscribed, why not do it now. Just go to how to subscribe
When 
Friday 19th - Sunday 21st July 2019
Where
This year's annual conference will take place from in the beautiful town of Stroud in Gloucestershire, where Greens control the Town Council and are part of the ruling Administration of the District Council, along with Labour and Lib Dem colleagues.  Accessible by train on the main line from London to Cheltenham, the event will take place in the centre of town, only a few minutes' walk from the station, the famous Saturday Farmers' Market and numerous quirky independent shops where you may wish to browse in your lunch breaks.
The Programme
For those that wish to start the weekend early and see a bit of the Stroud Valleys, there will be a short walk through Stroud and along the Canal to the Stroud Brewery - possibly  the Greenest businesses in the District - to hear about what it's doing to promote sustainability and to sample some of the local beer. Meet outside Stroud Railway station at 3pm or come and join us at the Brewery: we should get there by 4pm.
For those aririving later, we will meet from 6pm onwards, at Star Anise cafe in central Stroud where there will be a tapas buffet from 7pm and bar and soft drinks available.
The conference will start on Saturday and will take place in the Imperial Hotel.
Training workshops confirmed so far include:
Moving from opposition to power
Transparency in Local Government: using Freedom of Information requests to find out about contracting processes
What can be achieved by Greens on town and parish councils
How to survive and thrive as a new Green councillor
Using social media effectively as a councillor 
There will also be opportunities to input, from a councillor's perspective, into Party Policy on tackling climate change, energy and tax, as well as updates from Head Office on governance changes, and regional sessions where delegates can build their local support networks. Sunday will inclue the AGC Annual General Meeting.
Throughout the weekend there will also be  plenty of time to network with colleagues and to be inspired and supported by them. Local Party members will host a social in St Laurence Church Hall on Saturday night and the weekend will finish by 2.30pm on Sunday.
Cost 
The conference is FREE to all subscribed agc members although there will be a small charge to Stroud Green Party for the catering. The cost to non AGC-subscribers is £40.
For councillors on a low income, there is also a travel and accommodation bursary available. If you feel you need help with the cost of attending please contact us to discuss. 
Getting there
By Train:
Stroud is on the main trainline between London (1.5 hrs from Paddington)  and Cheltenham (30 mins). The station is in the centre of town, approx 5 minutes walk from the conference venue and right next to the Imperial Hotel, where will be meeting for dinner on Friday night. 

For those of you with accommodation booked that is not within walking distance, there is a taxi rank outside the station
By car:
From the M5 going South, turn off at Junction 11a onto the A419 and follow the signs to Stroud. From the M4, turn off at Junction 15 for Cirencester onto the A419 follow the signs to Stroud. There are various pay and display car parks all within a few minutes walk, the nearest being Cheapside which is just across the railway track (requires walking up steps to cross the bridge). There is also some car parking at the Imperial Hotel. If you cannot walk far and require on-site parking, please let me know so that I can ensure a space is available.
There are various options:
Some accommodation is available with local Green Party members. Contact

jackie.cutcher@gmail.com  

who will organise this for you.




There are numerous Air BnB listings in Stroud and the surrounding villages.

The

Imperial Hotel

where the conference will take place, has reasonably priced rooms right in the town centre as does the

Premier Inn

. There are also several any small country hotels in surrounding villages (you will need a car for these).

There are also various b&b's in the area. More information can be found on the

Stroud Tourism Information website

for those that enjoyed camping last year, we are hoping to organise a campsite approx 7 miles from Stroud. Details to be confirmed
Accessibility
The rooms we will be using at the Imperial Hotel are on the ground floor and are wheelchair accessible, with level access straight outside to the car park. If you need to use the disabled parking spaces available, please let Sally know so that she can make sure they are reserved for you. We apologise that there are no accessible toilets in the hotel but delegates may use the accessible toilet at the Lord John pub which is only a few doors away and is open throughout our conference.
St Laurence Church Hall and Star Anise Cafe are fully accessible.
The Premier Inn is fully accessible and is half a mile from the conference venue.
Please let us know if you have any specific accessibility needs regarding the conference or accommodation
Still not sure whether to come?
Here's is a taste of the presentations and inspiring discussions at last year's conference
 Sessions included:
- Lessons and tips from our recent election successes
- Making the most of your Parish / Town Council
-  Flood Prevention - what local councils can do
-  Green Party Climate Change Campaign - involving local councillors 
AGC members can find all the presentations on the Resources page.
Memorable highlights were:
" Wood fired pizzas on Friday night..... Visiting the Eco School nearby which is the Greenest school in England......the beautiful countryside.... passion....... "
 Don't miss out this year - book now.